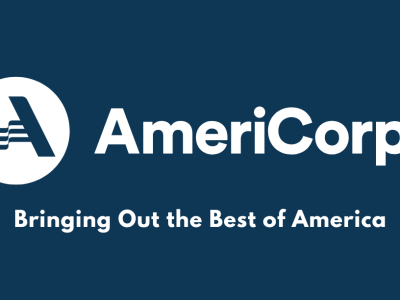 Are you seeking extra people power to tackle needs in your community? AmeriCorps NCCC partners with a variety of nonprofit and governmental agencies, who design a project to address an identified community need and sends a team of 8-10 young adults to be the people power behind it by living and serving in that community for typically 6-8 weeks at a time.
AmeriCorps NCCC is seeking partners for projects taking place in 2024. Available project dates and deadlines along with the types of service they can provide are outlined on their Request for Proposals with the first one being due November 1, 2023 for projects taking place in March – April 2024.
Want to learn more? Attend one of two upcoming webinars to learn more about how to apply and host a team in your community. If you can't attend either one, you can register now to receive a recording of one.
Friday, September 15 at 11:00 AM Eastern – Register Here.
Tuesday, September 19 at 3:00 PM Eastern – Register Here.
Would you prefer to meet one on one? Assistant Program Director Alana Svensen Hults would love to connect with you! You can schedule a meeting by clicking here.
We also have some videos about a few projects on our AmeriCorps' YouTube page.
Food Security: Click here to learn about a food security project with the Greater Cleveland Food Bank in Cleveland, OH
Environmental Service: Click here to learn about a project with an environmental focus with our partner Mountains to Sound Greenway Trust in Issaquah, WA
Affordable Housing: Click here to learn about a project with Sea Island Habitat for Humanity in Johns Island, SC
Already familiar with the program? Be sure you have the correct application materials if you're looking to apply. They were updated in November 2022.
The Project Concept Form and the Instructions may be downloaded here. Scroll to "How to apply – NCCC Traditional", Step 2 for both documents. It works best to download the Concept Form to your computer and complete using Adobe Reader or similar software.

Please note, if you are a returning potential partner, AmeriCorps NCCC updated their documents as of November 2022. The current documents expire in 2025.
Don't have a project right now, but know of an 18-26 year old who may want to serve? They are always looking for new members. Anyone interested in learning more about becoming an AmeriCorps NCCC Member can learn more here. Please direct any questions to:
Alana Svensen Hults (she, her, hers)
Assistant Program Director
NCCC – North Central Region
AmeriCorps.gov
ASvensen@cns.gov
M: (202) 409-6797