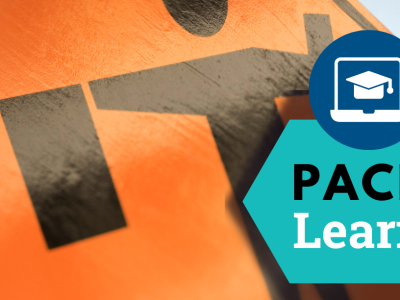 It is crucial for municipal road crew members and firefighters to learn the safe ways to direct traffic around work zones and accident scenes. For decades, PACIF members have gone to no small effort to make sure staff and volunteers attend in-person trainings to learn this important information and the underlying principles.
Did you know that in-person flagger trainings can be a thing of the past? There's no specific need to schedule a time that works for everyone and make sure the space is available for it.
PACIF Learn, the online training platform that PACIF provides to its members free of charge, has an excellent course for training individuals in safe flagger procedures. It is extremely convenient and flexible because this course can be taken anytime, anywhere, and on any internet-connected device. With PACIF Learn, the employer can assign particular course(s) to people and see when they have completed their coursework.
If your municipality is already using PACIF Learn, you are all set to start using it for flagger trainings. If you're not using the system yet, find out more today at our PACIF Learn webpage, vlct.org/PACIFlearn.
If you would still like to have an in-person flagger training, please email losscontrol@vlct.org to schedule one. Please keep in mind that although there is no legal timeline for flagger recertification, we recommend that flaggers, whether staff or volunteers, review the training every four to five years.