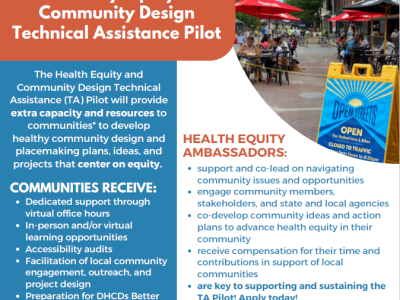 From safer, walkable, universally accessible streets to more green spaces, the Vermont Department of Health (VDH) in partnership with the Vermont Department of Housing and Community Development (DHCD) is excited to announce the launch of a technical assistance pilot to support community-led design, placemaking, and health equity projects across Vermont.
Applications are now open for interested communities* and Health Equity Ambassadors.
VDH and DHCD invite eligible Vermont communities* and residents over 18 years of age to apply for the Health Equity and Community Design Technical Assistance (TA) Pilot. Approximately 20 to 35 communities will be accepted for in-person and virtual engagement sessions between December 2022 and October 2023. 
●    The TA Pilot will provide extra capacity and resources to communities to develop healthy community design and placemaking plans, ideas, and projects that center on equity. 
●    The TA Pilot will also help prepare communities that are interested in, but not yet ready to apply for, DHCD's Better Places placemaking grants.
Trusted community members who want to be directly involved in bringing health equity to their community are also encouraged to apply to be a Health Equity Ambassador. 
Ambassadors are important to the success and sustainability of the TA pilot. Ambassadors will:
●    support and co-lead on navigating community issues and opportunities
●    engage community members, stakeholders, and state and local agencies
●    co-develop community ideas and action plans to advance health equity in their community
●    receive training and compensation for their time and contributions in support of local communities
Visit the Healthy Communities Vermont website to learn more.
*Communities are flexibly defined, and may include nonprofits, municipalities, and volunteer groups.