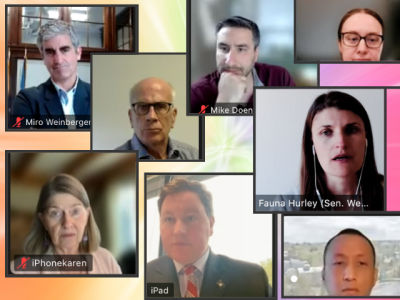 Burlington Mayor Miro Weinberger, Rutland City Mayor Michael Doenges, and several staff members of the Vermont League of Cities and Towns told U.S. Senator Peter Welch Wednesday that a default on the U.S. Government's debt would lead to higher costs for municipal borrowing, reductions in municipal services, and catastrophic impacts to municipal pension systems. 
 
Welch asked a small group of business and municipal leaders to share how a default could impact Vermonters. No one on the call thought defaulting on the country's debt, or using that possibility as leverage, was a wise move. Welch reminded the group that following the Revolutionary War, our nation was saddled with debt, largely from the operation of the victorious Continental Army. The debt was worth pennies on the dollar in international markets, and many expected the newly formed U.S. Government to default. But Alexander Hamilton rallied the country to pay its debts in full – leading to bond holder confidence and increased cash availability that laid the groundwork for our country's success. (Check out this Smithsonian Magazine article on the topic.)  
 
So what's the big deal? According to the National League of Cities, municipalities would almost certainly see an increase in borrowing costs if the U.S. Government defaulted on its debt. The bond rates that municipalities pay would go up, and municipalities might need to keep more cash on hand to demonstrate they were a good credit risk. This would require spending more money to pay debt service, leaving less money available to build water and wastewater systems, support housing development, and invest in public safety. Because many municipal pension systems are partially invested in the stock market, we can also anticipate that pension funds would be underwater. 
 
Speaking of deals, VLCT and the mayors on the call also pointed to serious concerns about the efforts of Speaker of the House Kevin McCarthy to cut discretionary spending by as much as 30 percent in exchange for raising the debt ceiling. Municipalities depend on those discretionary dollars to fund police departments, emergency medical services, road projects, water and wastewater projects, and housing projects. As one example, the Department of Housing and Urban Development provided municipalities with about $14 million in 2022 to address housing and development needs. Does it really make sense to cut that program by $4 million when the state is considering putting 3,000 unsheltered Vermonters in our communities? Such debates should occur during the appropriations process, not in a hostage situation as ransom.  
 
VLCT appreciates Senator Welch asking for our opinion and concerns. Here's hoping Congress and the President can agree on a solution before the debt ceiling collapses in the coming weeks.
by Ted Brady, VLCT Executive Director