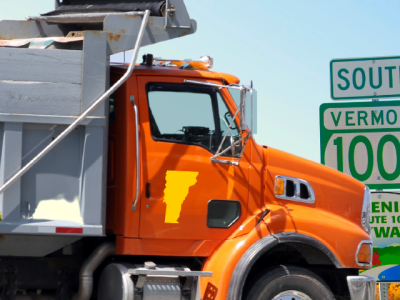 Every city, town, and village has reason to be proud of at least one vehicle in its fleet — whether it is a fire truck, a snow plow, or a new electric police car. In the inaugural VLCT Work Wheels Competition, we invite towns to help us show off Vermont's best-looking municipal fleet vehicles. The $2,000 grand prize will be awarded at Town Fair 2023. 

Vermont municipalities are encouraged to enter their best-looking work vehicle for the initial round of the competition. Simply submit a picture of the town vehicle you're most proud of and fill out the application below. Each municipality (any full or associate member of VLCT) may enter only one vehicle, so choose wisely. The application deadline is July 31, 2023.
Guidelines
VLCT's judges will select the three best-looking vehicles, and each of those towns will receive a free all-inclusive two-day Town Fair ticket and an overnight stay at the Doubletree Hotel — a combined value of $350. These municipalities will also have the option of inviting the vendor that is most responsible for their vehicle's best traits to exhibit for free at Town Fair — a $900 value.
The top three vehicles will be on display at Town Fair 2023, September 26th and 27th at the Doubletree Hotel in South Burlington. Town Fair attendees will vote to select the "Best in Tow," and the winning municipality will receive a $2,000 gift certificate from Hard Wired Auto Electronics LLC of Waterville, Vermont — to help make their next vehicle look sharp.

In addition to selecting the three best looking vehicles to compete for "Best in Tow", VLCT will award a consolation prize – "Best to Tow". This prize will be given to a vehicle that demonstrates a town's frugality. Submit an entry for a vehicle you're not so proud of but is still in active service. The winner will receive a $1,000 grant from PACIF to help replace or repair the vehicle. 
Criteria for Judging
 Vehicles will be judged on the following criteria:
Paint job. Those with the boldest colors, interesting details, and unique combinations are likely to score best.
Town identification. How well the vehicle incorporates the town seal/logo or the name of the town.
Unique vehicles. Every town has a pickup truck, but how many have electric pickup trucks? Anyone can enter a road grader, but what about an electric road grader (yep, they exist!)?  And who doesn't love a fire or police boat?  A good-looking unique vehicle will outperform a good-looking classic most of the time.
Condition. Anyone can keep a new vehicle clean. The best vehicles are ones that are surprisingly good looking for their age!
Rules for All Entries
At the time of entering the competition, the vehicle must be legally registered as a municipal vehicle in the state of Vermont (i.e., have a red license plate). If the vehicle is selected as a finalist, the municipality must commit to bringing the vehicle to Town Fair and leaving it on display from 9 AM Tuesday, September 26th to 4 PM Wednesday, September 27th, 2023, at the Doubletree Convention Center in South Burlington, Vermont.
This Competition is Made Possible by the Sponsors
Hard Wired Auto Electronics LLC of Waterville, Vermont
VLCT Property and Casualty Intermunicipal Fund (PACIF)